Shopping Basket
Your Basket is Empty
There was an error with PayPal
Click here to try again
Thank you for your business!
You should receive an order confirmation from Paypal shortly.
Exit Shopping Basket
Scott A. Siegel, MD, DDS, FACS, FICS, FAAP
Northeast Oral and Maxillofacial Surgery, PLLC
| | |
| --- | --- |
| Posted on 27 January, 2015 at 17:00 | |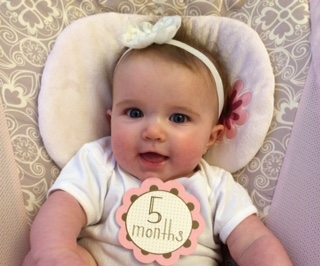 My daughter, Alaina, is 5 month old today.
At 5 days old, her pediatrician diagnosed her with both an upper lip tie (ULT) and a posterior tongue tie (PTT) and referred us to consult with an ENT. I was so happy to have an obvious cause of all the pain I had been experiencing with nursing, but I was also fairly clueless as to what it all meant as I had not had this experience with my first born. I was worried about how a tie would affect our nursing relationship, so I immediately put in my first call to my lactation consultant, Kathy Koncelik.
She provided me with information about ties, useful resources and tips for nursing and pumping, and told me that she could comeworkwith us after the revision. Kathy suggested that I schedule an appointment to see Dr. Siegel, but we decided to listen to our pediatricianand schedule with an ENT. After seeing an ENT who saw no issue, I was thrilled when a second ENT told me that anything that interferes with nursing is an issue. He revised Alaina's ULT with scissors under general anesthesia at 5 weeks old. I had to stay in the waiting room of the hospital during the procedure. I thought that both her ULT and PTT would be revised, but the doctor decided that because of her great tongue extension we would not have to revise her PTT. Kathy came to visit with us a few days after the revision and informed me that the PTT would need to be revised if I wanted to have success with breastfeeding and if I wanted to avoid future problems with things such as speech. She also told me about a possible connection between ties and migraine headaches. She had so many reasons as to why we should revise. I was overwhelmed and confused, but I was no longer in pain nursing so my husband and I convinced ourselves that the ENT knew best and Alaina's PTT did not need revision.
Things were going great until Alaina was about 2 months old and started vomiting a few times a day. The vomiting got progressively worse and by the time she was 3 months old she was easily vomiting 10 times a day. I love and trust our pediatrician, so when she attributed her reflux to an immature digestive system, I listened. After all, she was gaining weight (born at 9lbs4oz and over 16lbs today!) and she never seemed uncomfortable. But as the weeks went on and I saw no improvement, I began to think that there may be a correlation between her PTT and her reflux. I started researching more about PTT, reading through posts in the Facebook tongue tie support group and reflecting on all of the information that Kathy had provided me with. It was then that I realized that there was more to her reflux than an immature digestive system and I committed to finding the answer. I learned that her tie could be causing an improper latch which could cause her to take in too much air and lead to reflux issues.
One email to Dr. Scott A. Siegel was all it took for me to make the appointment for laser revision. His secretary contacted me shortly after he and I spoke and we were scheduled within two days. I was nervous, but the procedure was over in seconds. I was able to stay in the room the entire time and we were brought into a private room where I was able to nurse Alaina without issue immediately after. She went on a brief nursing strike in the hours after we got home. This was alarming to me since she had nursed so well right after the procedure. That night, I received a phone call from Dr. Siegel to check in on Alaina and he assured me that the nursing strike was normal and not to worry. A short while after speaking with him, she started nursing again and I was thrilled! The next day, a Sunday mind you, I had a little confusion about one thing so I texted Dr Siegel. He got back to me right away. As the worried parent of a little patient, his attention and quality of care is very reassuring. Not many doctors give out their cell phone number and encourage you to text them with any questions. He exceeded our expectations and put my husband and me at ease!
Two days after the procedure, Kathy came to visit us again. I could not thank her enough for all of her help and for the referral to Dr. Siegel. The results were truly astonishing. We are one week post revision today so that means that Alaina would typically have had around 70 vomiting episodes. Not our revised little girl. In one week, she has vomited 3 times and spits up a little bit here and there like a typical baby would do.
I can't even begin to express how happy my husband and I are with the outcome! We want to send a very big thank you to Dr Siegel and want to say that if anyone is struggling to make the decision about revision, stop thinking so hard and just do it! It was the best decision we have made as parents yet! Our only regret is that we didn't listen to Kathy and schedule with Dr. Siegel from the start. The whole experience was honestly amazing and I'm so proud that I'm able to share our story!
-E.S., Mother of 5 month Old Post-Operative Laser Tongue and Lip Tie Patient
Categories: Patient Stories- Tongue and Lip-tie
/